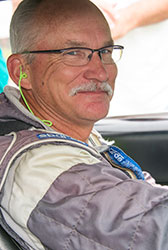 Richard Goldsmith - Belllingham, Washington
1970 Trans Am Dodge Challenger #77
Originally Driven by Sam Posey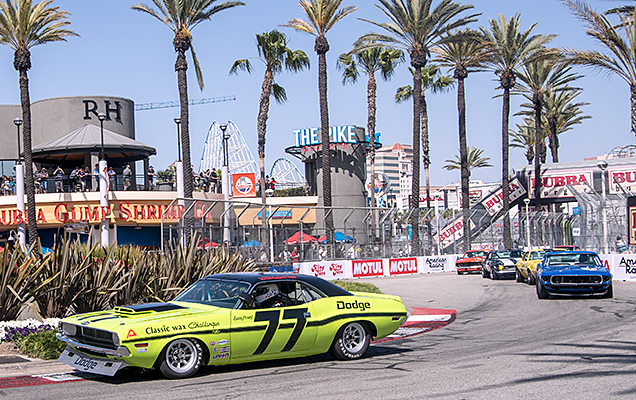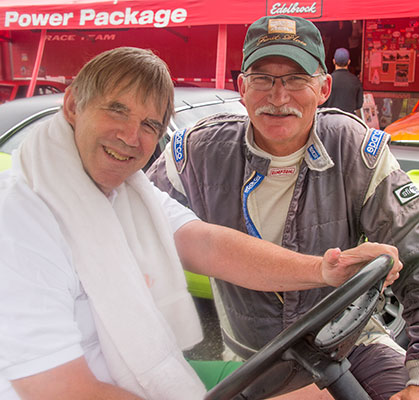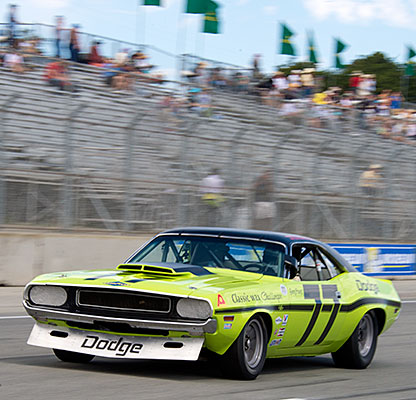 Color "Sublime"
Built by Ray Caldwell's Autodynamics
Engine: 303 cubic inch 460 hp (destroked 340)
Weight 3200 lbs.
Street Car Challenger T/A
Documented History:

This chassis was built at Dan Gurney's AAR shop and the car was finished at Ray Caldwell's Autodynamics... the famous Formula Vee builder. This car was a factory
Dodge entry, with Sam Posey as the driver and Classic Wax as the sponsor.

This car finished 4th in points for the 1970 season behind Ford and AMC, but ahead of Chevrolet, Plymouth, and Pontiac... not bad for a last minute start-up team!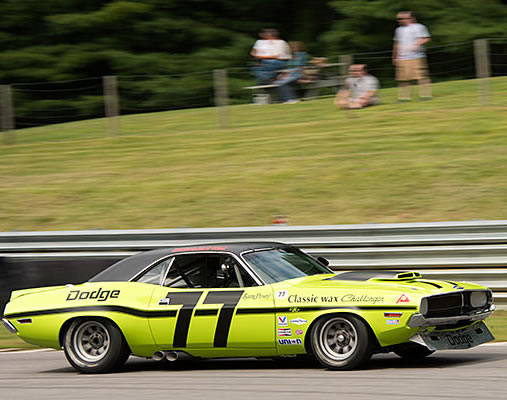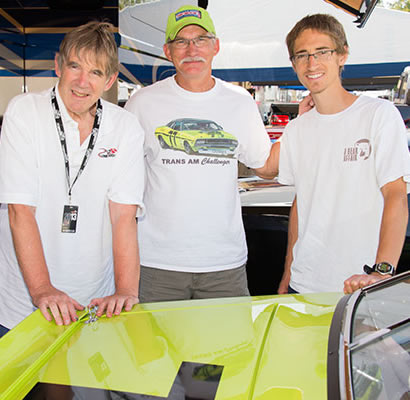 | | |
| --- | --- |
| | |
| In 1970 Sam Posey finished sixth at Laguna Seca in this Dodge Challenger. | Sam Posey confers with Team Manager Carroll Smith during practice at Mid-Ohio in 1970. |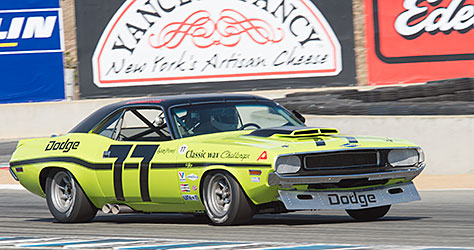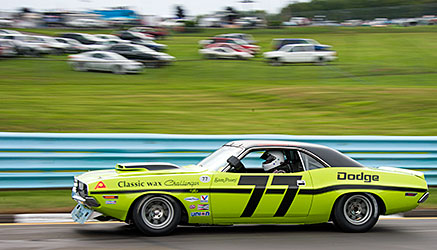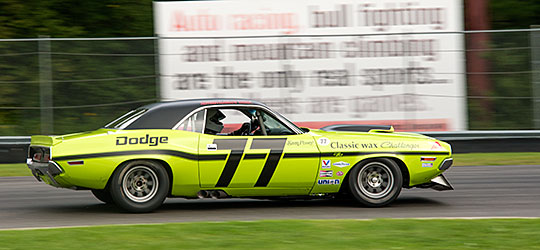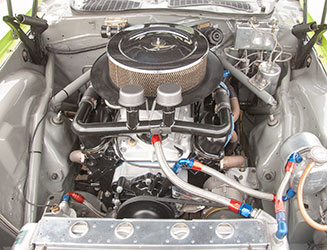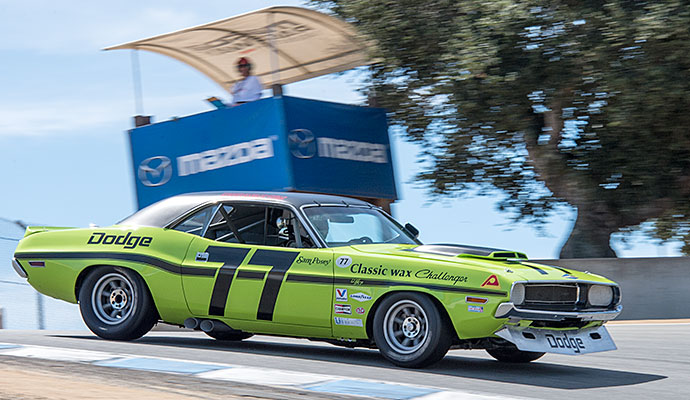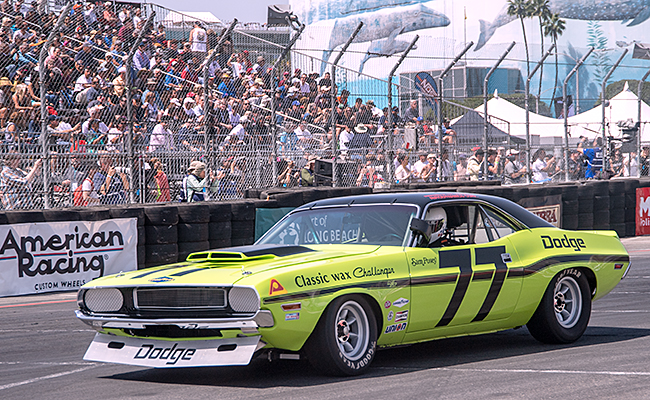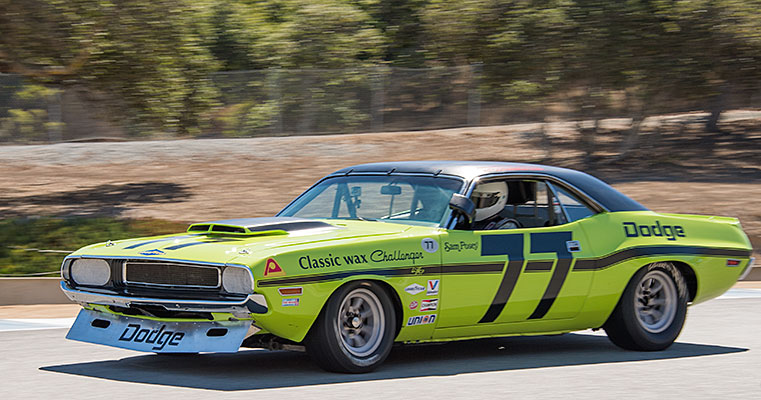 In the Trans-Am Series, teams would "acid dip" the race cars to etch away metal, thus making the car lighter.

At Laguna Seca, the first race of the season, the Challenger team was last in line for technical inspection. Since all the factories were participating in 1970, the first inspection of the year was highly detailed.

After the Challenger had passed tech inspection and was accepted, the team offered John Taminus, the Chief Technical Inspector, a beer. John rested his elbow on the roof of the car and it dimpled in (from too much time in the acid bath).

When that happened, he told them that they could not run the car until the roof was replaced.

Within an hour of that incident, the Challenger team had received permission from Dodge and torched the roof off a Challenger that was sitting on a dealer's showroom floor in downtown Monterey.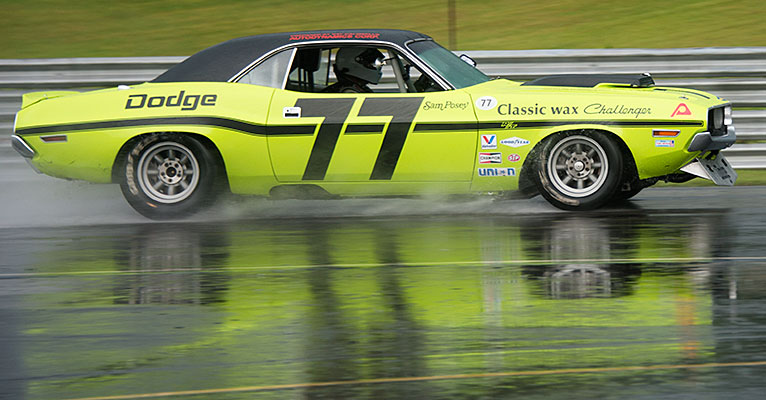 Best Finishes
1970
3rd
Lime Rock
Sam Posey
3rd
Road America
Sam Posey
3rd
Kent
Sam Posey
1971
20th
Bryar (oil pressure)
John Paul